By Ed McLaughlin and Wyn Lydecker
The media are filled with stories of "change-the-world", high valuation companies – particularly like those born in Silicon Valley. All this publicity has the potential to create false beliefs about what constitutes a worthy business idea: If your startup isn't going to skyrocket into the public eye, it may not be worth the weight of the pitch-deck. Fortunately, plenty of entrepreneurs are learning the hype simply is not true. There exists a large world of entrepreneurial opportunity beyond Silicon Valley.
Kyle Wong, Co-founder and CEO of Pixle, a content-marketing platform out of the San Francisco Bay area who has been immersed in the arena of sexy startups, found a different perspective when he attended the EY World Entrepreneur of the Year Award Ceremony. When he stepped out of his Northern California bubble, he met entrepreneurs from 51 different countries. He encountered brilliant founders, many of whom had been working on their companies for two or three decades – with visions far longer than just the next few quarters. In his article, "What You Can Learn from the Best Entrepreneurs Outside of Silicon Valley," Kyle wrote of his experience and of the great contrast between the seasoned EY entrepreneurs he met and the entrepreneurs with shorter-term mindsets to which he was accustomed.
A SOLID BUSINESS IDEA DOESN'T HAVE TO BE A HIGH PROFILE ONE
Cool new products get reviews, articles, advertisements, and talk show segments, but as Kyle Wong found, there's more to entrepreneurship than disruptive technology-driven businesses that skyrocket to popularity overnight. While they may not be in the limelight, there are plenty of B2B startups that save clients hundreds of thousands of dollars per year in real costs. The companies have a high-profile within their industries because of their contributions, but they do not make it into the popular media. So I'm delighted when entrepreneurs like Kyle see the real value in founders who find a niche that will provide solid solutions for their customers.
KEEP YOUR EYE ON THE PRIZE
Entrepreneurship often starts with your inner being just knowing that you want to work for yourself, but your dream may not be realized right away. I wanted to start my own business since I was 17-years-old, but my journey was more of a marathon than an overnight success. I'm glad that I was not burdened with the false pretense that startup success was measured only by a change-the-world idea.
I worked for IBM and Hewlett Packard and developed valuable business acumen, but it was nine years before I entered the market where I finished honing my distinctive competence and eventually birthed my new business idea in corporate real estate outsourcing.
To help me keep my eye on the ball and never lose hope in my ultimate goal, I wrote a covenant in October of 1983 stating that I would start my own business within five years. Then, I had it witnessed and signed by a friend. For years, I carried that promise in my wallet; it became the physical representation of my commitment to start up.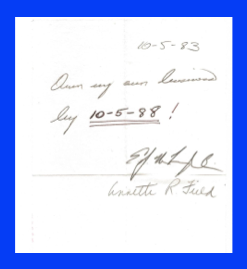 My covenant to start up
One of the reasons I find it so rewarding to be an angel investor and to write and talk about my books, is because it gives me the opportunity to provide guidance to current and potential entrepreneurs and help them set their horizons on the wonderful opportunities in their future. They may not become the founders of glitzy startups we hear about in the news, but they can be the founders of rock-solid businesses that weather the changing markets and give them solid entrepreneurial careers.
Ed McLaughlin is currently co-writing the book, The Purpose Is Profit: The Truth about Starting and Building Your Own Business, with Wyn Lydecker.
 They are currently offering a complimentary eCopy of The Startup Roadmap: 21 Steps to Profitability here.
 Copyright © 2015 by Ed McLaughlin All rights reserved.
Ed is the founder & CEO of Blue Sunsets LLC, a real estate and angel investment firm based in Darien, CT. He also founded and served as chairman and CEO of United Systems Integrators (USI) Corporation, a corporate real estate outsourcing firm.
He earned Entrepreneur of the Year honors in 2001 from Ernst & Young, and USI was named to the Inc. 500 List of America's Fastest Growing Companies. In 2005, he sold USI to Johnson Controls (JCI), a global leader in automotive, battery, and control systems. Ed then became CEO of JCI's
Global WorkPlace Business for the Americas.
Earlier in his career, Ed was a partner with Trammell Crow Company, a global real estate firm, and worked at IBM and Hewlett-Packard.
A member of the Board of Governors for Tufts Medical Center, Ed founded its David E. Wazer Breast Cancer Research Fund. He graduated from The College of the Holy Cross where he is a member of the Board of Trustees.
Ed is the author of The Startup Roadmap: 21 Steps to Profitability and The Purpose Is Profit: The Truth About Starting and Building Your Own Business, both books for aspiring entrepreneurs and small business leaders.